French President Emmanuel Macron is hosting a summit with several European and African leaders aimed at boosting efforts to curb migrant flows across the Mediterranean.
The Paris talks involve leaders from Chad, Niger and Libya – major transit countries for migrants, who risk their lives trying to reach Europe.
The leaders of Germany, Italy and Spain are also attending.
To ease the influx, Mr Macron wants to see asylum requests handled in Africa.
He has spoken of setting up "hotspots" in Chad, Niger and Libya to process asylum applications. But the BBC's Hugh Schofield in Paris says Libya's chronic instability would be a major obstacle to such centres operating there.
Nearly 100,000 migrants have made the perilous sea journey from Libya to Italy this year, and the UN's International Organization for Migration (IOM) says more than 2,000 have died on that route.
In July the number crossing to Italy dropped by 57% compared with June – partly, officials say, because Italy has tightened co-operation with Libyan security forces.
But Italy has long been urging its EU partners to help ease the burden of housing migrants, as its reception centres are overcrowded.
In 2015 the EU pledged €1.8bn (£1.6bn; $2.1bn) for initiatives to help African countries stem the flow of migrants to Europe.
The plans include beefing up border surveillance along migrant routes and schemes to create jobs for impoverished communities.
But the focus of short-term efforts is to shift the processing of asylum claims to offices in Africa.
This summer Spain has seen a surge in migrants making the much shorter journey from Morocco.
Most of the migrants are West Africans, with Nigeria, Guinea and Ivory Coast the top countries of origin. In most cases they are treated as economic migrants, rather than refugees fleeing fighting or persecution.
The UN-backed Prime Minister of Libya, Fayez al-Sarraj, is to join the talks, along with Niger President Mahamadou Issoufou and Chad President Idriss Deby.
German Chancellor Angela Merkel will also attend the summit, as will Prime Minister Paolo Gentiloni of Italy and Spain's Mariano Rajoy.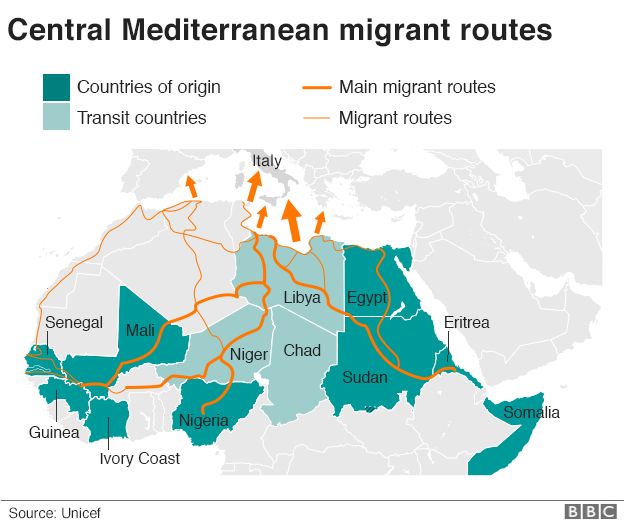 A note on terminology: The BBC uses the term migrant to refer to all people on the move who have yet to complete the legal process of claiming asylum. This group includes people fleeing war-torn countries such as Syria, who are likely to be granted refugee status, as well as people who are seeking jobs and better lives, who governments are likely to rule are economic migrants.