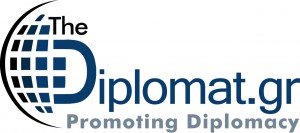 ---
The Diplomat is a pioneering bilingual (Greek-English) News and Current affairs magazine, addressing issues concerned with the Diplomatic Corps, in Greece and Europe, with particular focus on Balkans.
It contains in-depth analysis and expert commentary on current issues in Greece, Europe and around the world. Prominent local and foreign influential experts, opinion-makers, academics and policy-makers provide strategic analysis of regional issues.
The Diplomat is committed to providing expert coverage and updates on:
-Geopolitical trends throughout the Euro-Balkan region and Middle East.
-Defense, Intelligence, Security, Terrorism and Counterterrorism issues
-Energy and Environment affairs
-Diversity, Social trends and popular Culture
-Conferences, special events and Seminars organized by Foreign Missions and Embassies
The Diplomat is a unique and indispensable tool for professionals within the Diplomatic Corps as well as for academics, policy and opinion makers, providing prompt and accurate analysis.
---
Property of:
Hellas Media Services Ltd.
Editor:
Jean Daniel Colombani
---
The Diplomat is publish by Hellas Media Services Ltd.