The annual bathing water report published today proves the value of the legislation and the years of investment in waste water infrastructure and other pollution reduction measures. It shows that bathing water quality has improved continuously over time leading to 96 % of monitored bathing sites in the EU meeting the minimum standards for water quality in 2015.
The annual bathing water report from the European Environment Agency (EEA) and the European Commission assesses bathing water quality in 2015, indicating where it is expected to be good in 2016.
The report compiles analyses of water sampled at more than 21 000 coastal and inland bathing sites across the EU, Switzerland and Albania indicating whether or not it has been contaminated by faecal pollution from sewage or livestock.
While 96 % of bathing sites met the minimum requirements, more than 84 % met the more stringent 'excellent' level. Several large tourist areas and cities like Blackpool, Copenhagen and Munich are also starting to benefit from investments in improved sewage systems, which are leading to cleaner bathing sites at harbour areas, urban river locations and nearby beaches.
Karmenu Vella, European Commissioner for the Environment, Maritime Affairs and Fisheries, said:"European bathing water is at 96 % acceptable and 84 % excellent standards. That is the result of 40 years investing in water and waste water infrastructure. It is a sign of EU legislation working well. And it is a perfect testimony to the fact that a highly evolved economic area such as ours can produce equally high environmental standards."
Hans Bruyninckx, EEA Executive Director, said: "Our assessment shows that bathing water quality has improved remarkably over the years. More and more bathing waters have not only reached the minimum requirements, but have improved to excellent standards. In some cities, people can even enjoy swimming in public harbour baths."
Overall bathing water has improved over time. In 1991, 56 % of bathing water sites reached the highest standards. This percentage rose to 87 % in 2015, based on nearly 9 600 bathing water sites that have been monitored every year during this period.
Other key findings
More than 90 % of bathing sites in eight Member States had excellent water quality in 2015: Luxembourg (all 11 reported bathing water sites), Cyprus (99.1 % of bathing water sites), Malta (97.7 %), Greece (97.2 %), Croatia (94.2 %), Italy (90.6 %), Germany (90.3 %) and Austria (90.2 %).
Across Europe, only 385 bathing sites were assessed as having poor bathing water quality in 2015. The share of bathing water sites rated 'poor' dropped to 1.6 % in 2015 from 1.9 % in 2014.
The highest numbers of bathing sites with poor water quality were found in Italy (95 bathing sites, 1.7 %), France (95 bathing sites, 2.8 %) and Spain (58 bathing sites, 2.6 %).
The share of bathing water with excellent quality increased from 78 % in 2011 to 84 % in 2015.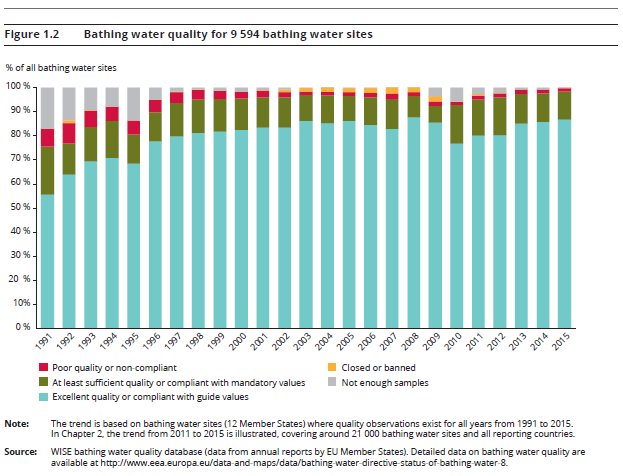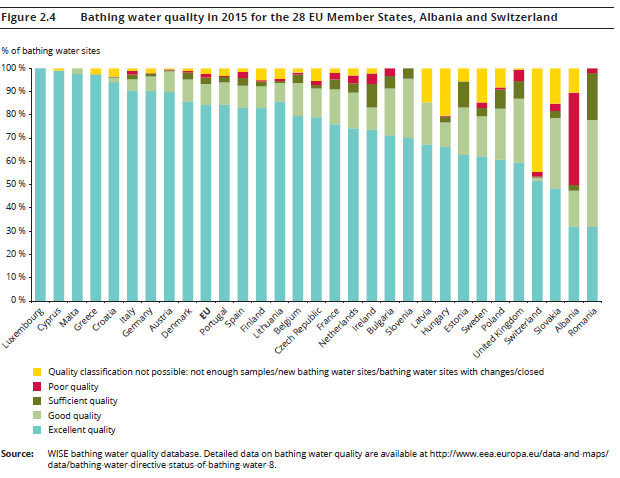 Background
For recreational activities such as swimming, faecal contamination is a cause of concern for public health. Swimming at contaminated beaches or bathing lakes can result in illness. The major sources of pollution are sewage and water draining from farms and farmland. Such pollution increases during heavy rains and floods due to sewage overflow and polluted drainage water being washed into rivers and seas. Forty years ago, large quantities of uncontrolled, untreated or partially treated wastewater were discharged into many of Europe's waters.
The 2015 bathing season was the first time that all EU Member States monitored their bathing sites according to the provisions of the EU's revised Bathing Water Directive (2006/7/EC). The directive specifies if the bathing water quality can be classified as 'excellent', 'good', 'sufficient' or 'poor' depending on the levels of faecal bacteria detected.
The outcome of the report will also be in focus during #EUGreenWeek, 30 May – 3 June 2016, as part of the event's broader theme this year, 'Investing for a greener future'.